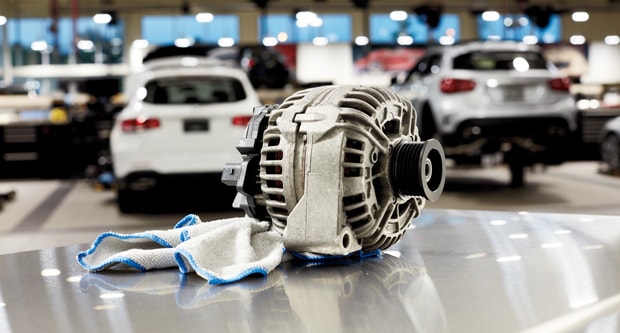 Parts Center at Ed Hicks Imports
At Ed Hicks Imports we make it easy for drivers in Corpus Christi and beyond to find the best quality parts and accessories at our parts center. We offer genuine Equipment Manufacturer (OEM) parts such as air or fuel filters or even specific interior trim pieces. Whether you are an independent repair shop, body shop, or are planning to do the work yourself, we can help you find the best quality parts for current or older models, including Metris and Sprinter Vans.
To request a specific item, simply complete our Mercedes-Benz parts ordering form online, or contact our Mercedes-Benz parts department to speak with one of our knowledgeable parts advisors at 888-472-7413.
Uncompromising Quality and Safety
Your Mercedes-Benz is engineered with the most advanced, state-of-the-art equipment. Aftermarket parts can compromise that quality and affect the performance and safety of your Mercedes-Benz.
We know every piece of machinery that makes your vehicle, which is why Mercedes-Benz offers the most appropriate and safest replacement parts. With Genuine Mercedes-Benz Parts, you fully benefit from the craftsmanship, quality and value which remain the cornerstones of our reputation.
These parts will help to protect your vehicles value and preserve its performance. Always insist on Genuine Mercedes-Benz Parts.
Genuine Mercedes-Benz Parts
There are no other parts as superior as Genuine Mercedes-Benz Parts. They fit your vehicle perfectly. They're engineered specifically to function with their fellow parts and systems, and are constructed from the finest materials available. They're also subjected to rigorous testing, which means each part comes fully certified. In the end, you can be sure that your vehicle will perform up to its potential, mile after mile.
Genuine Remanufactured Parts
Genuine Remanufactured Parts are guaranteed to meet the same high standards for quality and reliability as Genuine Mercedes-Benz Parts, but with a competitive price tag. Using remanufactured parts for repair and replacement will help maintain your vehicle's quality and performance while reducing environmental impact.
Mercedes-Benz StarParts
Mercedes-Benz StarParts are expertly designed for vehicles 5 years and older. They provide an authentic, price-friendly solution, while maintaining the standards in fit and performance that you've come to expect from Mercedes-Benz. It's the only way to care for your vehicle as it ages to keep it running smoothly, mile after mile.
Mercedes-Benz Parts Limited Warranty
The best part? Each part in our inventory is backed by a Parts Limited Warranty, giving you even more peace of mind of the quality and function. The Mercedes-Benz Parts Limited Warranty includes:
24-months, unlimited mileage
24-months or 24,000 miles for transmissions
48-months or 50,000 miles for the engine and long blocks (same coverage that new Mercedes-Benz vehicles receive)
Dealership Hours
Monday

8:30am - 7:00pm

Tuesday

8:30am - 7:00pm

Wednesday

8:30am - 7:00pm

Thursday

8:30am - 7:00pm

Friday

8:30am - 7:00pm

Saturday

9:00am - 7:00pm

Sunday

Closed
Parts Department Hours
Monday

7:30am - 6:00pm

Tuesday

7:30am - 6:00pm

Wednesday

7:30am - 6:00pm

Thursday

7:30am - 6:00pm

Friday

7:30am - 6:00pm

Saturday

7:30am - 4:00pm

Sunday

Closed