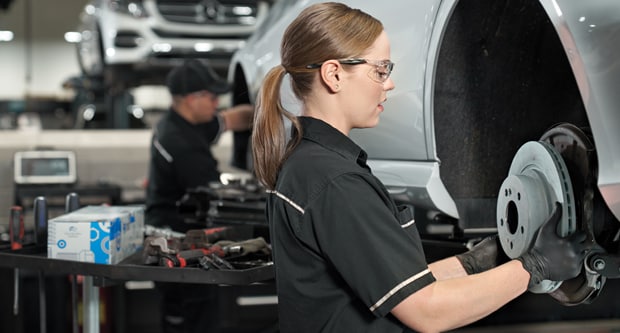 Ed Hicks Imports Brake Service
Keeping your brakes in their absolute best condition is incredibly important to your safety. We are dedicated to helping you keep your brakes operating as they are designed to do. We can provide regular inspections and service in our service department to help you stay on top of any issues that might arise. Our highly-trained technicians have the appropriate tools and techniques along with Certified Mercedes-Benz Genuine Parts to fix any problems and get you back on the road quickly and safely.
 Common signs of brake issues are:
Squealing, squeaking, clicking, or grinding
Poor braking performance (takes longer to stop than usual)
Pulling to one side while braking
Spongy or soft brake pedal
Brake pedal goes to the floor with no resistance
ABS or Brake Warning light illuminated
Brake pedal pulsates during braking due to wobbling, vibration, or scraping
Leaks or wet spots near the brakes
If you are experiencing any of these brake issues please schedule an appointment with our service team. We pride ourselves on providing an excellent brake repair experience to our customers that is quick, efficient and will get you back on the road safely. We can assist with changing your brake pads, rotors, brake fluid, or even a more in-depth repair, we are here to assist with our Genuine Mercedes-Benz brake parts. 
What is the different between Mercedes-Benz Genuine Brake Parts and Aftermarket Brake Parts?
Genuine Mercedes-Benz brake parts are designed and built specifically for each Mercedes-Benz model by the engineers who designed the vehicle. Aftermarket brake parts are built by another other manufacturer whose focus is on fitting more than one make and model.
Genuine Mercedes-Benz brake parts, like all Genuine parts, go through rigorous testing and certification process. These parts are also manufactured with the safety standards that you've come to expect from the Mercedes-Benz brand. There is no guarantee that aftermarket parts have been thru the same vigorous testing.
If you are experiencing any braking issues, please don't hesitate to contact our Service Department at 888-472-7413 or schedule a service appointment today.
Dealership Hours
Monday

8:30am - 7:00pm

Tuesday

8:30am - 7:00pm

Wednesday

8:30am - 7:00pm

Thursday

8:30am - 7:00pm

Friday

8:30am - 7:00pm

Saturday

9:00am - 7:00pm

Sunday

Closed
Service Department Hours
Monday

7:30am - 6:00pm

Tuesday

7:30am - 6:00pm

Wednesday

7:30am - 6:00pm

Thursday

7:30am - 6:00pm

Friday

7:30am - 6:00pm

Saturday

7:30am - 4:00pm

Sunday

Closed